Cel-Fi GO Telstra Home PRO Pack
Description:
Installing in the Home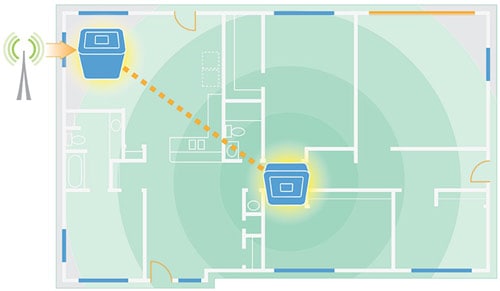 Please be aware that there are specified carrier requirements mandated for commercial installations utilising multiple Cel-Fi products. If you are considering supplying or installing multiple Cel-Fi GO devices in a larger building, it is a requirement that you contact Powertec for planning and consulting assistance, or risk your installation being removed by the Carriers.
For the PRO to operate effectively the surrounding area must not be saturated with 5GHz WiFi. You may need to switch my WiFi router to use 2.4GHz if any issues occur.
Sutible for
Supported Networks
Telstra, Aldi Mobile, Boost Mobile, Woolworths Connect + other MVNO's
Nextivity's third generation Cel-Fi PRO is a cost-effective and intelligent indoor coverage solution for Telstra's Next G, 4G and 4GX networks operating supporting Band 5 – 3G(850MHz), Band 28 – 4G(700MHz) and Band 3 – 4G(1800MHz). It is designed to dramatically boost indoor voice quality and increase data speeds for 3G or 4G consumers.
The Cel-fi PRO differs greatly from the standard indoor repeater due to its ability to not interfere with the mobile network or other users. Often referred to as a Mobile Phone Booster or Smart Repeater, the Cel-Fi has the ability to provide maximum coverage, be network friendly and can be easily installed by the end-user.
Are Cel-Fi Repeaters Legal in Australia?
Yes Cel-Fi has been approved by Telstra, Optus and Vodafone" for use on their 3G & 4G networks in Australia
Kit-Contents:
What's in the Box
CelFi Pro for Telstra
LMR240 Cable included
Wideband LPDA 698-2700 8/9dBi
10m cable