Combining map-guided trail navigation with 2-way radio communication, the Garmin Rino 750 handheld brings a whole new level of confidence to your outdoor adventures. It features a dual GPS and GLONASS satellite reception, Active Weather updates, emergency alerts with Position Reporting, Bluetooth® headset audio, 3-axis compass, barometric altimeter and more.
LIMITED STOCK AVAILABLE
Clearance
Special Price
$699.00
Regular Price
$829.00
Key Features
Rugged GPS/GLONASS Handheld with Powerful 2-way Radio
• 5 W FRS/GMRS 2-way radio; communicate by voice call or unit-to-unit text messaging
• High-sensitivity GPS and GLONASS satellite reception; tracks in more challenging environments than GPS alone
• Supports Active Weather forecasts and animated weather radar tracking
• Emergency alert reporting lets other Rino 700 series users on the same channel know where to find you in an emergency; tells you position of help on the way
• 3-inch sunlight-readable touchscreen with dual orientation (landscape or portrait view)
Combining map-guided trail navigation with 2-way radio communication, the Garmin Rino 750 handheld brings a whole new level of confidence to your outdoor adventures. It features a dual GPS and GLONASS satellite reception, Active Weather updates, emergency alerts with Position Reporting, Bluetooth® headset audio, 3-axis compass, barometric altimeter and more. Rino 750 supports advanced mapping capabilities such as BirdsEye Satellite Imagery (subscription required).
Navigate Anywhere — Communicate Everywhere
Each Rino series device features a dual-orientation, 3-inch color touchscreen that's glove friendly and easy to read, even in bright sunlight. A powerful 2-way radio transceiver lets you easily stay in touch with your fellow hunters, hikers or explorers in the field. You also have capability to send unit-to-unit text messages to other Rino users in your area — ideal for loud or windy conditions or when you don't want to disturb the wildlife. Rino also lets you share your waypoints, tracks, routes and geocaches wirelessly with other compatible Garmin handheld devices.
Find Your Friends
Rino series handhelds feature a unique Position Reporting capability that lets you send your exact location to other Rino users so they can see it on their map page.
Pinpoint Your Position
With its high-sensitivity GPS and GLONASS receiver and quad helix antenna, Rino 750 quickly finds your position and maintains it — even in heavy cover or remote, off-the-grid locations. Plus, a built-in barometric altimeter and 3-axis compass make it easy to get your bearings without needing to hold the unit level.
See Your Surroundings
Rino 750 handheld comes with a worldwide, shaded-relief basemap. With the wide array of detailed Garmin marine and road maps available, it's easy to install additional mapping products. Just use the unit's microSD™ card slot to load the compatible mapping options you want. Or you can use our free Custom Maps software to transform paper and electronic maps into downloadable maps for your device.
Keep a Close Eye on the Weather
With support for Active Weather forecasts and animated radar tracking, the Rino 700 series gives you a vital edge in weather awareness. Get real-time conditions, forecasts and alerts (in areas with coverage) directly on your handheld display when the Rino is paired with a compatible smartphone¹ and the Garmin Connect™ Mobile app. For added safety, each 700 series Rino handheld features a built-in NOAA weather radio that can help you avoid hazardous weather. The radio supports Specific Area Message Encoding, which allows you to see National Weather Service warnings and watches displayed county-by-county on the map screen.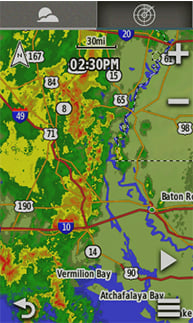 Works with Bluetooth-enabled Headsets
Syncing your Rino with a compatible Bluetooth-enabled headset enhances your radio communications, even under adverse weather or wind conditions. And by syncing your Rino with a compatible smartphone¹, you receive smart notifications (calls, texts, emails and more) right on your display, so you stay focused on the trail ahead while staying connected with friends and family back home.
Think Rugged and Robust
Durable and water-rated to IPX7, the Rino 700 series is built to keep delivering vital mapping and tracking data, no matter what the elements throw at you. Battery life can exceed 14 hours in the field. Plus, the dual battery system lets you use the included rechargeable lithium-ion power pack or AA battery pack (sold separately).
Plan Your Next Trip
Take charge of your next adventure with BaseCamp™, software that lets you view and organize maps, waypoints, routes and tracks. This free trip-planning software even allows you to create Garmin Adventures that you can share with friends, family or fellow explorers. BaseCamp displays topographic map data on your computer screen, including contour lines and elevation profiles. It can also transfer an unlimited amount of satellite images to your device when paired with a BirdsEye Satellite Imagery subscription.
Turn Your Computer Into a BaseStation
Garmin BaseStation lets you turn your laptop (loaded with BaseCamp) into a field command center for tracking multiple Rino units. View real-time GPS information on the larger display of your computer while Rino serves as a router/antenna. And because it's Garmin GPS-based, you're in control of more effective search and rescue operations, even when internet or cell phone service isn't available.
¹See Garmin.com/BLE for compatibility
Weather not available in all areas.
General
Physical dimensions: 2.6" x 7.9" x 1.6" (6.6 x 20.1 x 4.1 cm)
Weight: 12.3 oz (348 g) with battery pack
Water rating: IPX7
Battery type: Removable, rechargeable lithium-ion battery pack; AA battery pack (not included)
Display type: 3.0" transflective, 65K color TFT
Display size: 1.53" x 2.55" (3.8 x 6.4 cm); 3.0" diag (7.6 cm)
Display resolution: 240 x 400 pixels
Battery life: up to 14 hours (up to 18 hours with optional AA battery pack at 2 watts)
Memory/history: 1.7 GB
Transmit power: 5 watts (UHF); up to 32 kms (LOS)
High-sensitivity receiver: Yes
Interface: high-speed USB and NMEA 0183 compatible
Maps & Memory
Basemap: Yes
Ability to add maps: Yes
Accepts data cards: microSD™ card (not included)
Waypoints/favorites/locations: 10,000
Routes: 250
Track log: 20,000 points, 200 saved tracks
Sensors
Barometric altimeter: Yes
Compass: Yes (tilt-compensated 3-axis)
Outdoor Recreation Features
Area calculation: Yes
Automatic routing (turn by turn routing on roads): Yes
Geocaching-friendly: Yes (Paperless)
Custom maps compatible: Yes
Hunt/fish calendar: Yes
Sun and moon information: Yes
Camera: No
Picture viewer: Yes
Two-way Radio Features
Frequency band: UHF
Channels: 80 + 38 CTCSS
Squelch codes: 38 (CTCSS); 83 (DCS)
Range: Up to 32 kms (line of sight)
VOX (voice activation): Yes
Location reporting (send and receive GPS positions): Yes
Vibration alert: Yes
NOAA weather radio: Yes
What's in the Box
• Rino 750
• Lithium-ion battery pack
• USB cable
• AC charger
• Carabiner clip
• Documentation
Plan a Trip
Use BaseCamp to plan your next hiking, biking, motorcycling, driving or off-roading trip. You can view maps, plan routes, and mark waypoints and tracks from your computer and then transfer them to your device.
• Track Draw feature lets you trace your planned route and view elevation changes, helping you estimate the difficulty of a hike or bike ride.
• Plan the perfect scenic route for your next road trip, making sure your navigator takes you through certain waypoints.
• Play back your routes and tracks over time and save and share your adventure.
Survey the Terrain
BaseCamp displays your topographic map data in 2-D or 3-D on your computer screen, including contour lines and elevation profiles. Load map data from your handheld device, or import maps you've downloaded or purchased on DVD or microSD™ card. Consider our TOPO series maps, which offer detail on a scale of either 1:100,000 or 1:24,000.
Geotag Photos
BaseCamp lets you geotag photos, associating them with specific waypoints. You can see the exact scenery at any given location. Transfer the photos to your handheld device, publish photos directly to Picasa™, or email your geotagged photos directly to friends or family so they can navigate right to your favorite spots in the future.
Create and Share Adventures
Garmin Adventures provides a free, interactive way to share your hikes, bike rides, road trips and more. Using BaseCamp, you can combine track logs, waypoints, geotagged photos, YouTube® videos and more into an adventure that gets published online. You can then email a link to your adventure to friends and family, share it on social media sites or even post it in your favorite forums. BaseCamp even makes it easy to follow in the footsteps of other travelers by allowing you to search for and download adventures.
Transfer Satellite Images
With BaseCamp and a BirdsEye Satellite Imagery subscription, you can transfer an unlimited amount of satellite images to your outdoor or fitness device and seamlessly integrate those images into your maps to get a true representation of your surroundings. It makes it easy to scout campsites, sources of water, potential hazards and more. If you prefer raster topographic maps, you can also download BirdsEye Select maps and pay only for the data you download.